Sue, Steve & the hard working staff (See below) welcome you to our Store!
FREE MEDIA MAIL SHIPPING IN THE U.S. ON ALL ORDERS OVER $ 25.00!!!
  Having Problems placing an order?  We are real people selling real books!  Call us at 508-883-7360


Real Books for Real People!
Over 28,000 Used Books, DVD Movies, Music CD's, Software and more!!
Please note - Grab Bags are not available for expedited shipping - Thanks!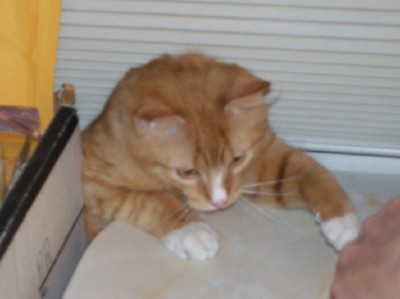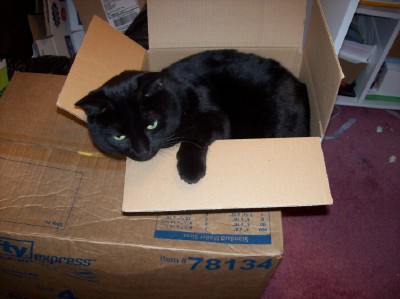 Popoki was the ultimate store sales generator during his nearly twelve years.  If you click on his photo, you can visit his memorial facebook page and learn about his remarkable story.  He very bravely battled cancer and liver disease for a long time, but still managed to be the happiest cat in history.  Rest in peace, Mr. Kamoa Moa.  You adopted us when you were only two, so we got 16 years of pure joy having you run the household.  We miss our two boys every day.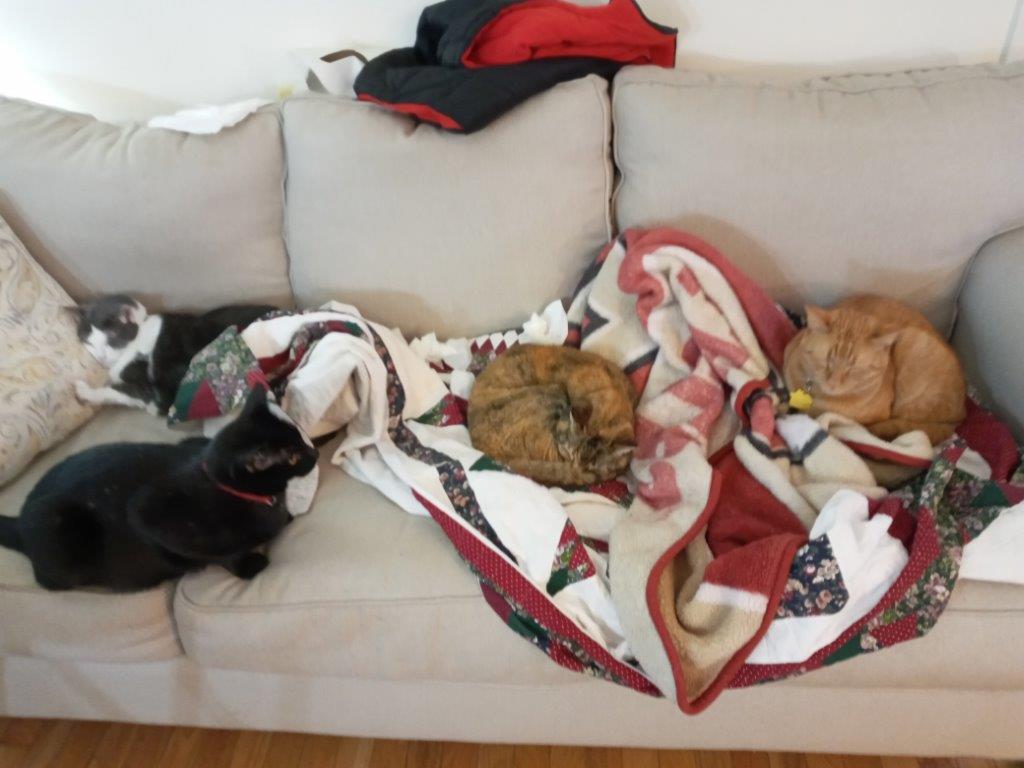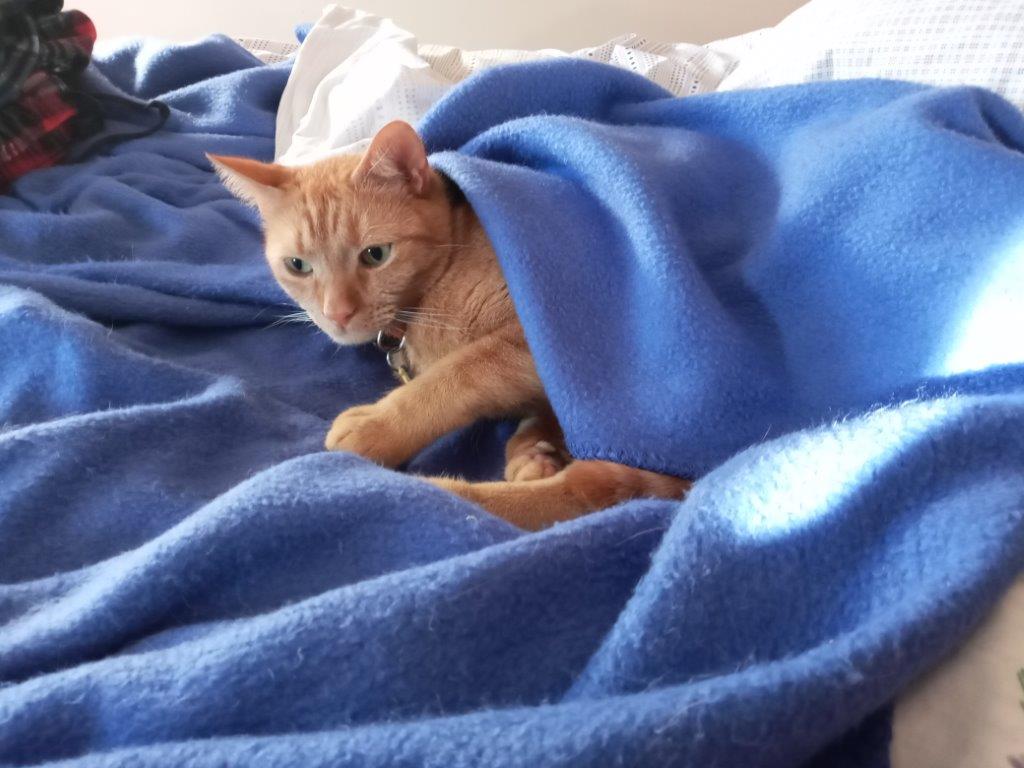 Our original four-pack only got together for a few photos over time, and the same is true of this group - Juni, Okie Dokie, Cinnamon and Biskit all decided one day that they wanted to enjoy the festive blankets, although Okie was still plotting how to get closer.  Biskit likes to play hard and then take long, long naps.  He actually burroughs under the covers himself.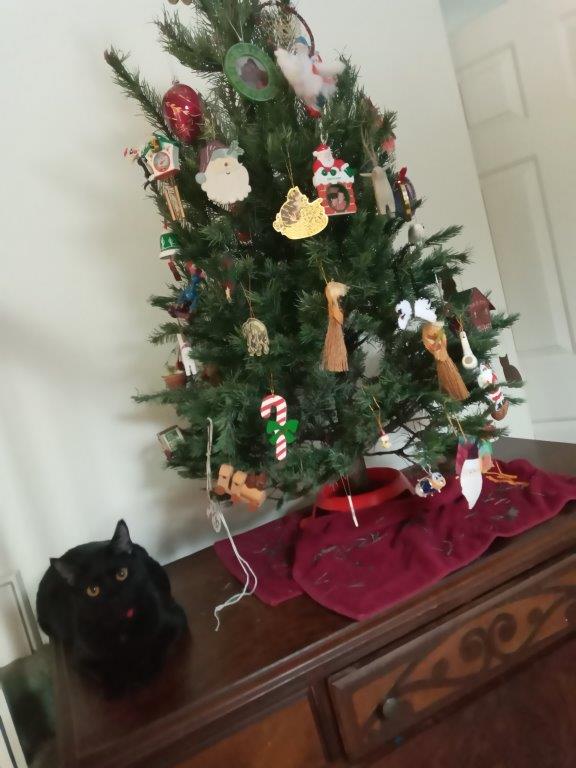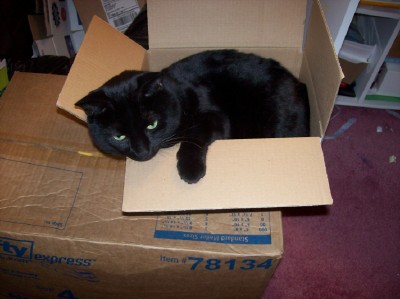 Okie Dokie loves to pose for pictures.  He never got to meet Mr. Kamoa, but they would have been the best of friends.  Mr. Kamoa believed that no box wasn't big enough for him to snuggle into.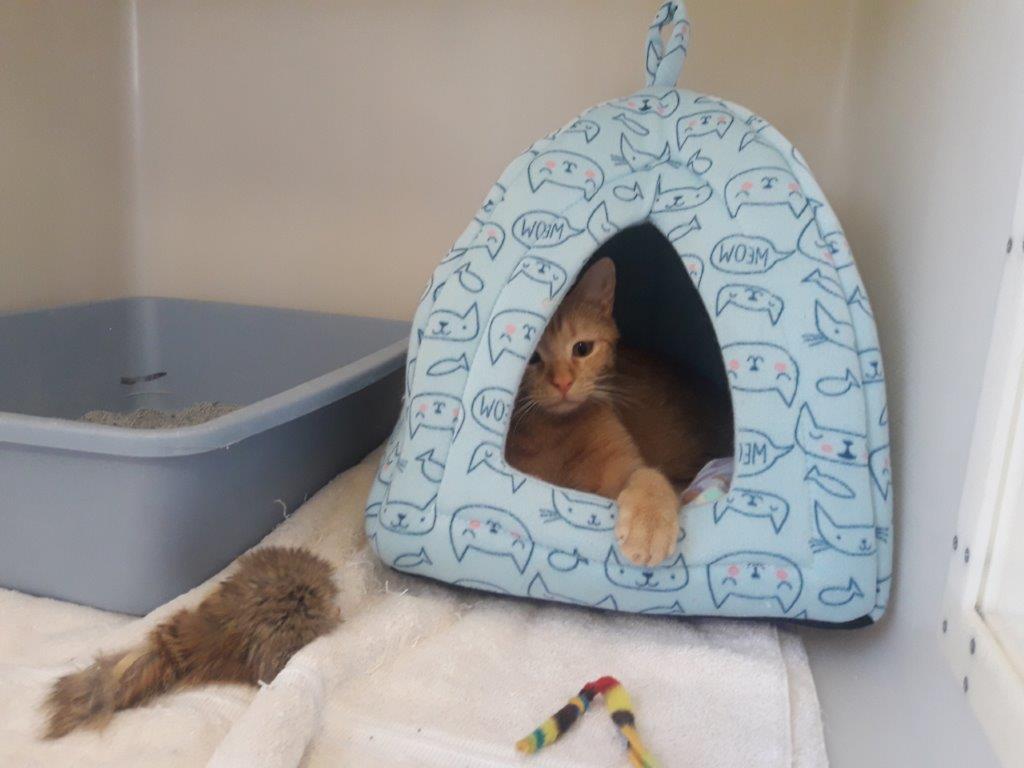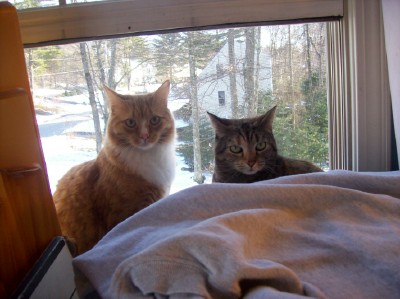 Biskit lived in a shelter between six months and ten months old after being captured in the woods as a feral kitten.  He was terrified of people and would hide in this little cubby hole at the shelter any time someone came into the room he was living in.  We visited him lots and lots of times in the shelter before he made enough progress to come home with us. On warm days, Popoki and Cinnamon used to compete for who could get to lay against the screen once the window was open.  Sometimes, they just had to share.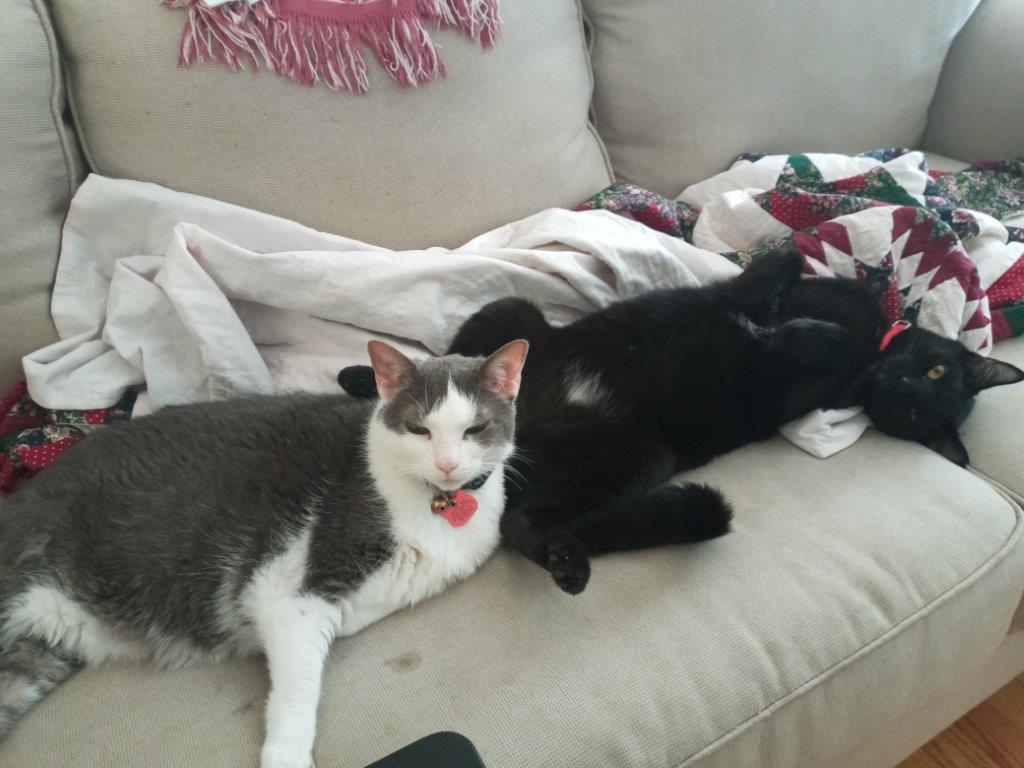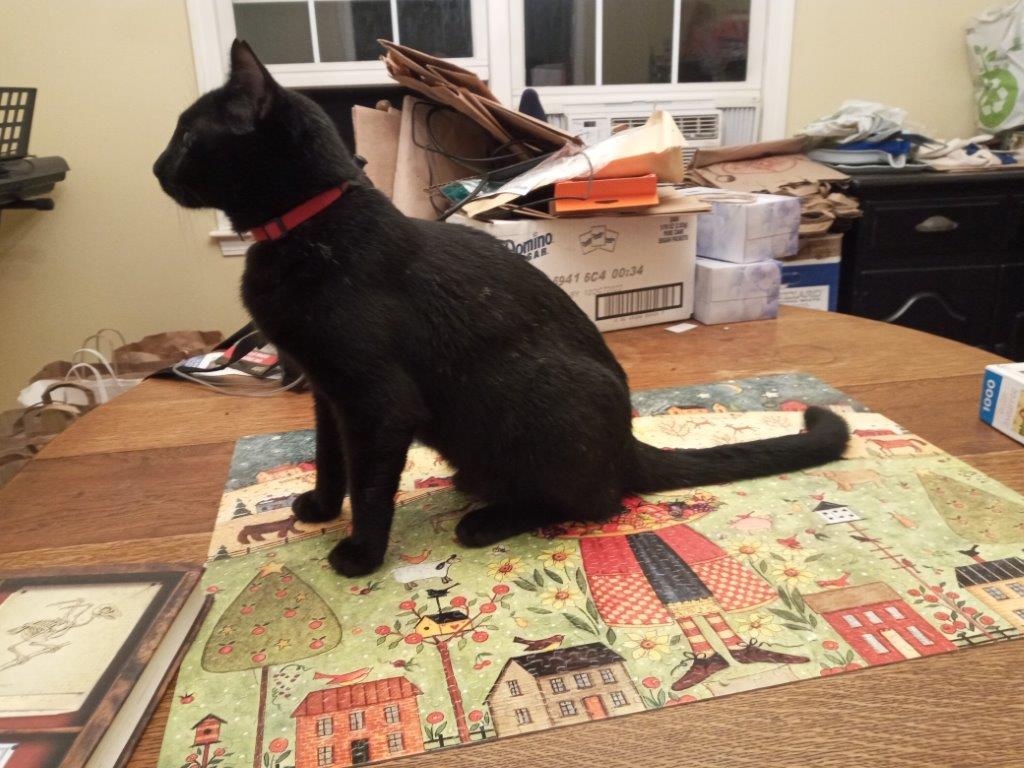 It took Juni about six months before she accepted she couldn't force Okie Dokie to leave the house once he arrived, but then they became very good buddies.  Okie Dokie loves to take on new challenges, but sometimes he just pretends he mastered them, like when he tried to take credit for making this puzzle.  He does have a great talent, though, for jumping onto the table, sliding into the puzzle, and sending himself and the puzzle flying off the other side of the table.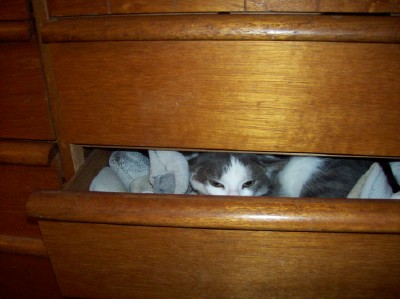 Juni is the best of the best at getting out of work shifts.  There is no end to her hiding places.  Biskit likes to show off his flexibility every chance he gets, atlhough he has trouble doing this while balancing a book in his paws.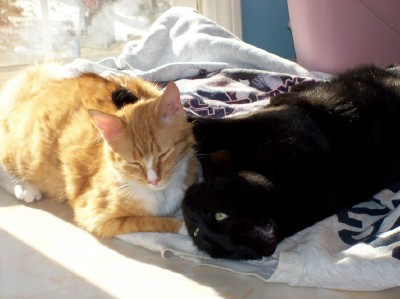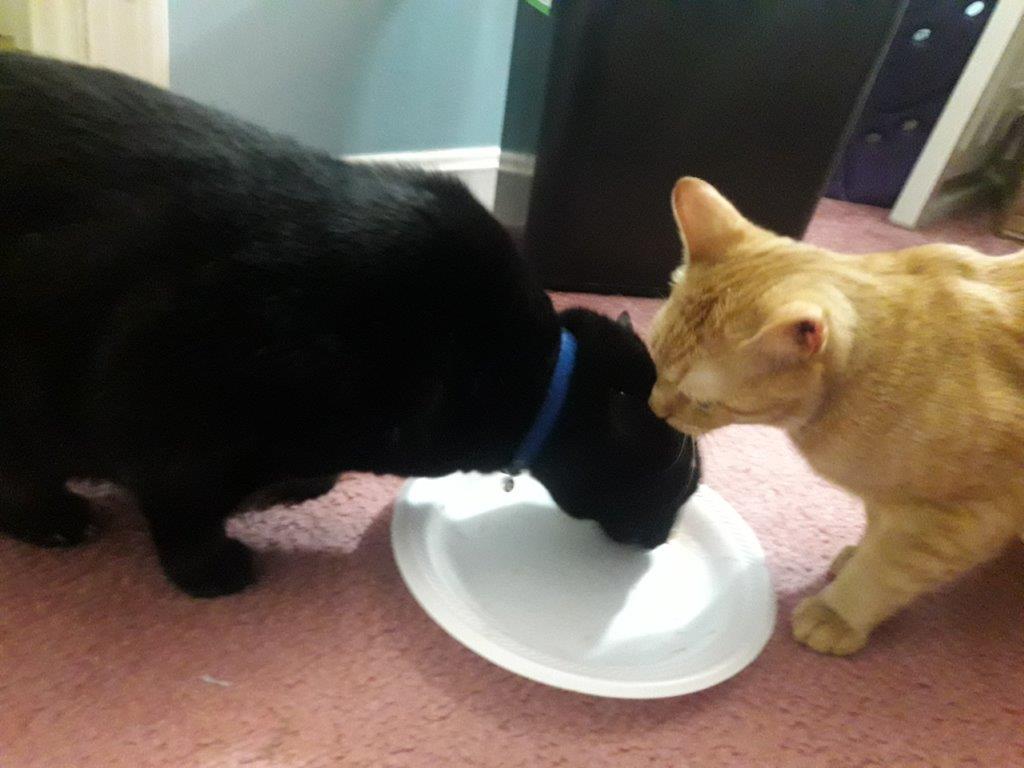 Mr. Kamoa Moa and Mr. Popoki were our first two male cats, and just happened to be a black cat and an orange cat.  Biskit continued the orange cat tradition.  This is the first time he ever met up with Mr. Kamoa.  Just a year or so later, Ohana joined the family as our newest family member.  Although he continued the 'Black Cat' tradition, he has amber eyes instead of Mr. Kamoa's sparkling green eyes. 
Popoki mastered the art of sleeping on his back early on, one of his 25 patented moves.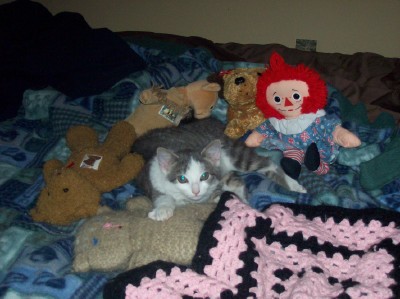 Juni loves to play 'Dolls' during her work break, whereas Biskit likes to conduct 'test' naps on different soft surfaces, to see how the different colors look as a background to his very well kept coat. 

MEET THE STAFF AT COZY BOOK CELLAR!!!!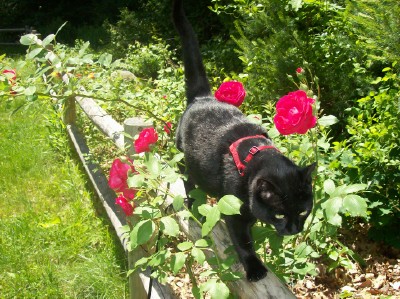 Mr. Kamoa Moa the Magic Cat (AKA Big Guy, AKA Mr. K) was the first employee at Cozy Book Cellar. He was adopted from a Dog Pound, which luckily had taken in a few cats as well. He had been abandoned near a senior center and was skin and bones. He was so loved by the dog pound workers that they fed him Scooby snacks all day long for two months. Mr. K loved to be slung over your shoulder so he could purr away while watching everything fall away behind you.  Kamoa was a giant marshmallow, sweet as can be, handsome beyond any photo, dignified and definitely was always in charge of the crew. Mr. K was our Shipping Manager. 

     

FAVORITE TRICK:  His patented Tippy-Toe Move.  When he wants you to chase him, he gives out a little cat cry, gets on his tippy-toes, and scampers away.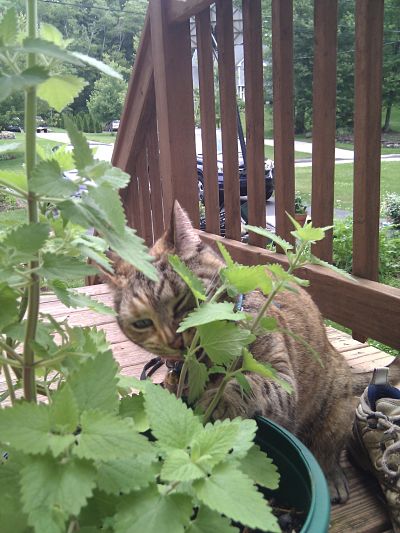 Cinnamon Cookie - AKA Memere Squeaky. Cinnamon came to us from a shelter when she was six months old. She had been abandoned outside, was covered with fleas and ticks, and fighting a serious infection. She's shy from having really bad things happen to her when she was young, but she wants to be around people all the time. She still 'Squeaks' when she's picked up, but if she climbs on your desk, she will roll over and beg you to rub her belly. Cinnamon is our Inventory Manager.



FAVORITE TRICK: 
Cinnamon will stand on her hind legs and 'CATCH' post-its that have been rolled into a ball and thrown at her head.  She them bats them back to you perfectly.  She's not just good at this game, she's spectacular!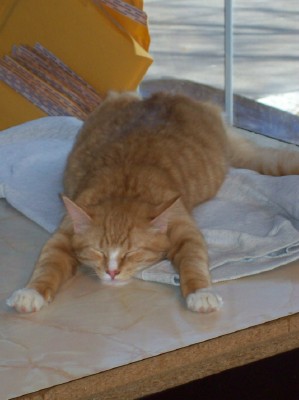 Alani Popoki - a very brave and very happy cat whose name means Orange Cat in Hawaiian -   AKA Pretty Boy.   Alani Popoki passed away on June 30, 2018 and the hole left in our hearts when he left is offset only by the joy he filled them with in his nearly twelve years.  Alani Popoki was adopted from a shelter when he was four months old. He was a little shy around new people, but he loved to play and run around like a crazed cat. Popoki was the happiest cat you'll ever meet in spite of his illnesses and he was gentle beyond gentle. He even purred while getting his rabies vaccine! Popoki was our Sales Manager and all he had to do was look pretty to generate sales.  

FAVORITE TRICK:  Mr. Popoki had about 25 favorite tricks.  You can read about them on his facebook page.  If Popoki were still here, he would tell you:

"Just remember, every act of kindness ripples forward through the universe forever."





Juniper Mist (aka Junie B. Jones the lovable rascal, J.J. or just Juni) was adopted from a shelter in November, 2007. She was part of a large litter belonging to a stray cat that lived in the woods near someone's house. The people living there managed to rescue the entire litter from the cold outside - except for Juni! They were able to snag her two weeks later and brought her to a shelter. In spite of not having contact with people until she was four months old, Juni is a sweetie who will snuggle under the blanket with you if you let her and purrs away whenever you pet her. She collects paper clips, so Juni has been put in charge of Office Supplies and Purchasing.  With the passing of Mr. Kamoa, Juni has also become Shipping Manager.

FAVORITE TRICK: Sneaking into the linen closet with perfect timing so that you can't see her do it.  She claims that she becomes temporarily 'Indivisible' so that no one can ever see her do it.  We explained that while she is indeed, indivisible, that she probably had a different word in mind.

Juni makes up lots of words, and she still refers to Kamoa Moa as Mr. Kamoey every time she walks up to him, as in, "Mr. Kamoey, it's me Juni. Do you want some help eating your food?"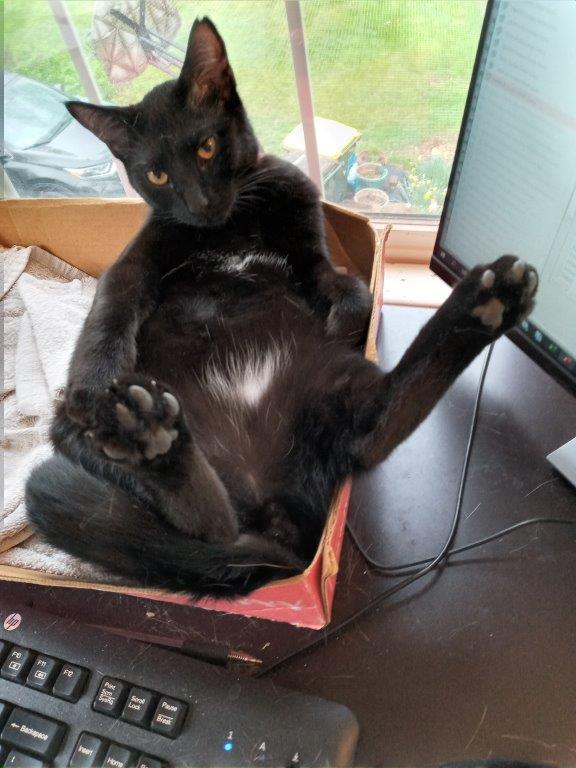 Ohana (Okie Dokie) is a sweet, lovable goofy young boy.   We adopted Ohana in late fall of 2020 during the pandemic.  He loves treats as much as he loves other cats.  His favorite trick is to outlast Cinnamon as she swats him over and over again to tell him to leave her alone, then he flops down next to her and she washes him and starts purring while they snuggle together in the sun.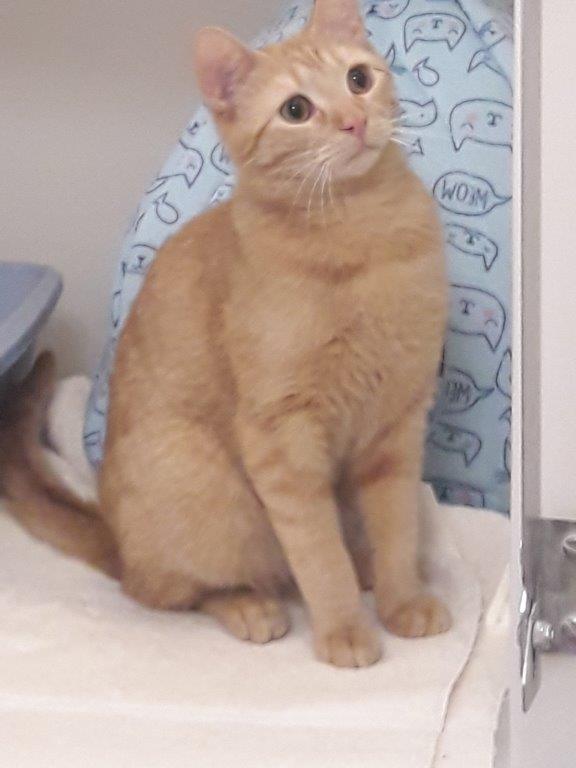 Biskit was about 8 months old when we first met him.  Biskit was caught accidentally in the wild when he was six months old by a volunteer trying to catch a pregnant cat.  Usually, he would have been neutered and then released back out to his colony, but he was so small that the volunteer decided to bring him into a shelter for safe keeping.  It took volunteers weeks before they could even see Biskit, who would hide in a small cubby in his cage.  We met Biskit when he was over 8 months old, and we visited him many times at the shelter before adopting him in April, 2019.  Biskit was very feral but gentle and mostly very scared. He would have a panic attack if you tried to pick him up. It took many, many hours and weeks of working with him for an hour every night after work, but now Biskit is just a normal little housecat.  We can pick him up without problem, he purrs away, sleeps on the sofa next to us at night, and loves working at the bookstore.  He is very, very loving and seeing how he has grown to be able to be relaxed and enjoy life has been tremendously rewarding.  We are so happy he came into our lives.

FAVORITE TRICK: Biskit likes to tug on the water bowl, enjoying watching the water slosh back and forth until the water covers the kitchen floor.  After he takes a little drink, he uses the floor as his own personal Slip-n-Slide.
  Trade in your old smaller Mass Market PAPERBACK Mysteries, SCI-FI, Romance and Fiction Titles for store credit!
2022 Titles: $ 1.24 each for books in very good condition.
2021 Titles: 

$ 1.00 each

for books in very good condition
2020 Titles: 

75 cents each

/ 2017/2019 Titles:

50 cents each

for books in very good condition
Older titles:

25-50 Cents each

depending on condition and title
No pre-approval needed!  Smaller Mass Market Paperbacks only!  No hardcovers!!!  No Larger Trade Paperbacks!!!
NO Romance numbered series (small thin mass markets)

NO smoker's books Please!!!

 Send them via USPS Media Mail to:
Cozy Book Cellar
P.O. Box 435
Bellingham, MA 02019-0435
Note - Shipping of Grab Bags and books that weigh over 2 lbs. to Canada and other countries need to have the shipping quoted separately
Note  Grab Bags are NOT available for Priority/Expedited Shipping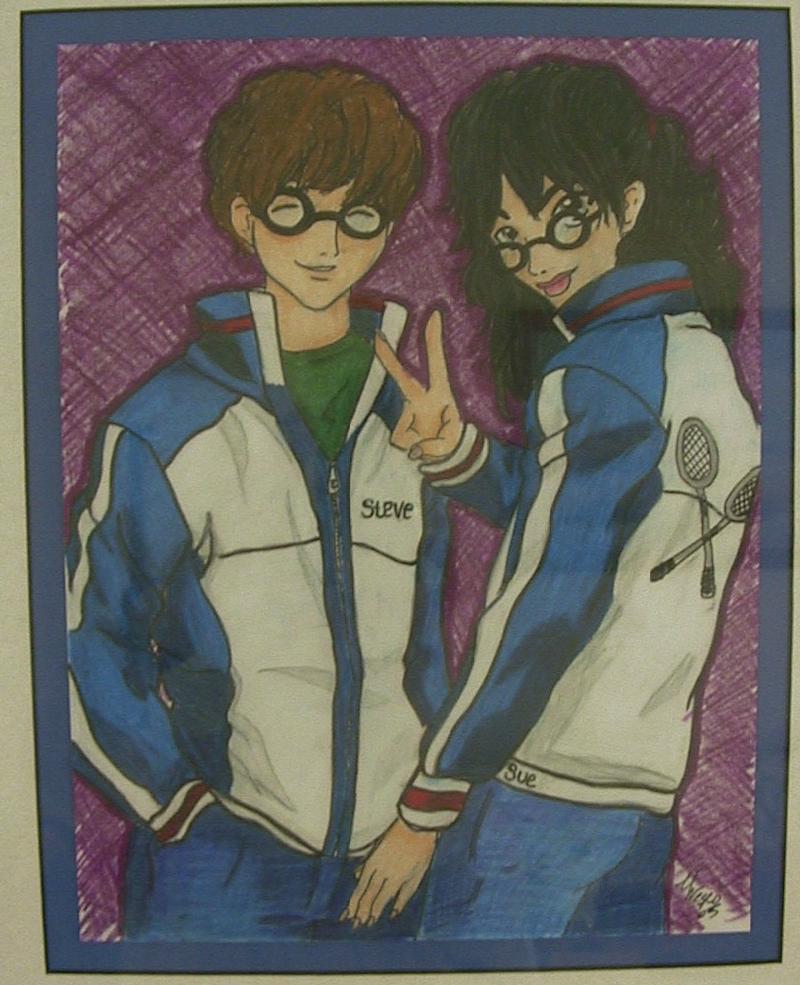 Caricature of Sue and Steve done by our niece, Missi. 

FROM STEVE:

No, really, I did almost look like the caricature just thirty years ago!  Also from Steve - Sue always has looked like this, and still does.  Apparently, only one of us is aging in the family!
Welcome to the home of Cozy Book Cellar. Please search or browse our inventory of affordable used books for reading pleasure! . If you can't find what you like please fill out our off-line search form and we will search our off-line inventory, other bookstores and book search services for you.